become an insider
Get a free song, hand-picked by the band PLUS juicy updates and more!
"Outrageously interesting arrangements!" 
-Weekly Alibi 
"Best live show I've seen in Albuquerque!" 
-Bruce Ponder 
"Hunton's ... perfectly and poetically deranged 
sentiment can raise a smile as well as a shiver" 
-Musically Speaking
about the band
Dust City Opera—Origins and Intentions 
By: Mel Minter 
Ragged and grandiose, horrific and funny, reckless and dramatic, the dark-rock outfit Dust City Opera was seeded when vocalist/guitarist/songwriter Paul Hunton inadvertently tuned into a heavy metal radio station as a youngster and found himself transfixed and transfigured. Some 25 years later, drawing on influences that range from Tom Waits to Soundgarden, opera to the Handsome Family—and a personal life shadowed by tragedy—Hunton formed DCO in January 2018, just two weeks before the band's first gig. 
Hunton brought with him a collection of songs—he'd been writing tunes since his early teens—with a focus on "violence and sadness and humor—wherever they intersect," he says. It's a focus rooted in a taste for the macabre that he picked up from his Stephen King–loving mother: "It was one of my favorite movies when I was in first grade," says Hunton. The fascination with violence and sadness only deepened with the wounding and wrenching loss of both parents in suicides a few years apart—his mother's motivated by terminal cancer, his father's a consequence of alcoholism. But liberated from fulfilling their expectations, Hunton gave up the study of classical guitar and dove into theater and popular music, playing in folk, rock, outlaw country, and bluegrass groups. 
Hunton knew he needed a sonic palette that could conjure the eerie atmospheres his songs invoke, and the range of genres that they touch on—from hard-edged punk to pop, Western swing to Eastern European waltzes. So he collected a group of musicians from dramatically different backgrounds who, among them, played guitar, accordion, clarinet, euphonium, trombone, bass, and drums. 
Clara Byom (clarinet/accordion), classically trained and a force in the folk and new music worlds, did not know Hunton personally, but she'd seen him perform and was intrigued by his offer to join his "folk band." "I didn't know what I was getting into," she says, but get into it she did. The conservatory-trained Travis Rourk (trombone/euphonium), with a strong classical and jazz background, had once been in a big band with Hunton and was surprised to hear from him. "I thought that Paul hated me," he says. He was wrong. 
By 2019, after a few changes in personnel, the band included Jared Putnam (lead guitar), Justin McLauchlin (bass), and Greg Williams (drums), along with Byom and Rourk. This lineup produced the band's first full-length album, Heaven, which featured 12 original songs with distinctively unique melodic lines and structures, and characteristically dark topics. There's the upbeat indie pop title track about a dead lover, and "Romance for the End of Days," the crooning '30s love song set in an environmental cataclysm that won Hunton the moniker "the Cole Porter of the Apocalypse." From scorching screams on the punkish "I Need a Man" to the breathy softness of the idyllic "A Place," Heaven covered a wide swathe of emotional territory.  
The album garnered international attention, thanks in part to a seventh, nonmusical member of the band: Sydney Counce, the band's manager, who gave up a corporate career to devote herself full-time to DCO, taking on the responsibility of ensuring that the group has "the tools it needs to keep doing this," she says.  
With regional and national interest building, the pandemic slowed the band's momentum and short-circuited tours and new releases. DCO went on an extended hiatus, but Hunton kept writing.  
By early 2021, the lineup had coalesced around Byom, Rourk, Chris Livingston (lead guitar), and Scott Brewer (bass). Livingston, who studied guitar with Hunton in high school and also plays the piano, brings a strong rock and jazz background. Brewer, who prefers his ear to sheet music, began with the group as a sub and secured the position when the previous bassist departed.  
This lineup, with contributions from Putnam, McLauchlin, and drummer Jackie Chacon, recorded a new full-length album in early 2021, and dropped several singles in advance, among them the dark and fevered ode to a former lover "Stars." A viscous guitar, baleful trombone, and seasick clarinet weave a densely layered atmosphere of disorientation and instability over which Hunton floats an earworm of a tune and lyrics that contemplate bloody revenge.  
Where Heaven focused primarily on everyday horrors—family, lovers, missed opportunities ending in death, and paralyzing angst—the upcoming release, Alien Summer, takes on bigger monsters, from brain-supping ghosts to interstellar aliens bursting from our skins to devour the earth.  
From day one, the intention of Dust City Opera has remained unchanged: this eccentric dark-rock orchestra from the irradiated deserts of New Mexico just wants to make you dance—and sleep with a nightlight.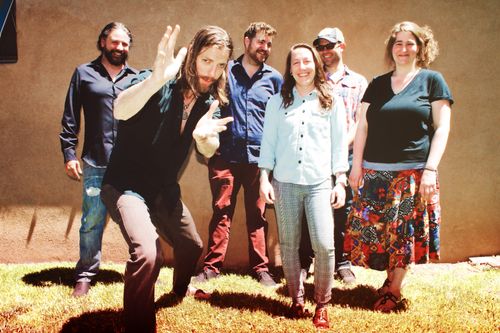 SUBSCRIBE
Get a free song
Get your free song, hand-picked by the band! Plus juicy updates and more, when you become an insider!